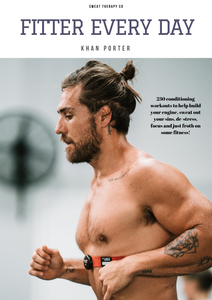 230 epic conditioning workouts
12 months worth of programming written by 6x Crossfit Games Athlete, Khan Porter
Get FITTER EVERY DAY with us now!
***
Disclaimer: You should consult your physician or other health care professional(s) before undertaking any of the workouts contained in this eBook, or any Sweat Therapy Co fitness program to determine if it is right for your needs and your health status. It is advised you do not undertake the workouts in this eBook if your physician or health care provider advises against it. If you experience faintness, dizziness, pain or shortness of breath at any time while exercising you should stop immediately. Do not disregard, avoid or delay obtaining medical or health related advice from your health-care professional at any time. The use of any information provided on this site is solely at your own risk. The workouts are designed for the general population with a generally healthy fitness level and basic knowledge of CrossFit style movements. We aim to assist you increase your cardio fitness, however, results
may vary for all individuals.
Although we do encourage working out with a buddy, each eBook purchase is subject to ONE user download. We appreciate your support and honesty using our products by not sending the eBook onto others!
All eBook purchases are non-refundable or exchangeable.
If you feel you have made an error with your purchase please email THPHstore@gmail.com to have a chat with our team!