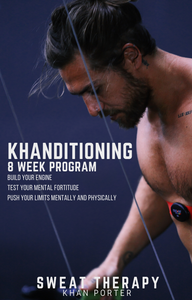 Build your engine, test your mental fortitude and push your limits mentally and physically.
This 8 week conditioning program is based off my own endurance training and is designed to improve your capacity across multiple time domains (including max effort, power output).
Imagine finishing a metcon smiling instead of wheezing on the floor, having the engine to be able to breeze past your workout buddies and power through local competitions.
Whilst strength and skill work is important, unless you have the engine to display that strength and skill under fatigue, you're in for a rough time!
We will test 3 capacity workouts prior to beginning the program and then again at the end and you'll be amazed at the results across the board.
The program includes 4 weekly sessions, with extensive scaling options for whatever equipment you have access to, including no equipment, running / bodyweight only options. You can reduce the weekly volume as needed and will still see results doing 2-3 sessions per week.
***
Disclaimer: You should consult your physician or other health care professional(s) before undertaking any of the workouts contained in this eBook, or any Sweat Therapy Co fitness program to determine if it is right for your needs and your health status. It is advised you do not undertake the workouts in this eBook if your physician or health care provider advises against it. If you experience faintness, dizziness, pain or shortness of breath at any time while exercising you should stop immediately. Do not disregard, avoid or delay obtaining medical or health related advice from your health-care professional at any time. The use of any information provided on this site is solely at your own risk. The workouts are designed for the general population with a generally healthy fitness level and basic knowledge of CrossFit style movements. We aim to assist you increase your cardio fitness, however, results
may vary for all individuals.
Although we do encourage working out with a buddy, each eBook purchase is subject to ONE user download. We appreciate your support and honesty using our products by not sending the eBook onto others!
All eBook purchases are non-refundable or exchangeable.
If you feel you have made an error with your purchase please email sweattherapycontact@gmail.com to have a chat with our team!