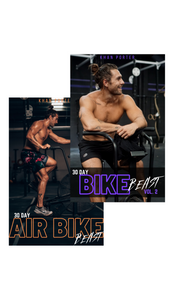 Not one, but BOTH BIKE BEAST eBooks are here.
Khan Porter's most cherished piece of equipment...
30-60 days to become a beast on the bike! 
eBook VOL 1
The ORIGINAL beast eBook
Our best ever seller
Increase your overall capacity with the original AIRBIKE BEAST eBook
All workouts can be done on an air-bike
Optional challenge workouts included 
All workouts tried and tested by 6x CrossFit games athlete, Khan Porter 
Epic, REAL results 
eBook VOL 2
All new, bigger, better, brutal workouts to build your engine.
Doable on an air-bike (assault, Rogue, SMAI etc.) or a Concept 2 Bike Erg.
Workouts tried and tested by 6x CrossFit Games Athlete Khan Porter.
Includes mixed workouts that use dumbbells, wall balls and body weight exercises.
Epic real and guaranteed results!
* Please read full disclaimer in eBook. Do not undertake any physical activity program including the Air Bike Beast or the Bike Beast vol 2 without consulting your healthcare professional if you are suffering from injury or illness. All individual results will vary - you get out what you put in!