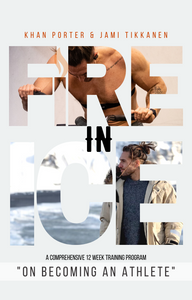 FIRE IN ICE
Follow the exact three month training program I followed when I moved to Iceland to train for the 2022 CrossFit Games season.
Every set, every workout, exactly as written for me by Jami Tikkanen.
The book also contains chapters on how to change and grow in the following areas (based on my own change and growth over the last six months).
Preparing for change
Routine
Habits
Focus
Nutrition
Recovery
Confidence
Mental Health
Resilience
This book is so much more than a program. It's a roadmap to becoming a better version of yourself in every way.
* Please read full disclaimer in all eBooks. Do not undertake any physical activity program without consulting your healthcare professional if you are suffering from injury or illness. All individual results will vary - you get out what you put in!